PGT® WinGuard® impact resistant windows and doors take the stress out of preparing for a big storm, providing peace of mind that your family and home will be protected when extreme weather hits. The strength of hurricane-force winds is no match for our relentlessly tested products. And with millions of WinGuard® hurricane impact products around the world, we've had zero reported impact failures.
Divided into five categories based upon sustained wind speeds, the Saffir-Simpson Hurricane Wind Scale is used to predict damage to buildings and homes that could occur. WinGuard® impact doors and windows are made to withstand repeated impact and hurricane-force winds.
The highest sustained U.S. wind speed ever recorded was 190 mph during Hurricane Allen in 1980.
Of the hundreds of hurricanes that have made landfall in the United States, Florida has been impacted by more than any other state. According to the National Oceanic and Atmospheric Administration (NOAA), the most expensive hurricanes the U.S. has experienced in recent history include:
Katrina: $161 billion
Harvey: $125 billion
Ian: $113 billion
Maria: $90 billion
Sandy: $71 billion
Irma: $50 billion
Some regions continue to face challenges for years and even decades in the aftermath of a hurricane. You can help minimize the damage caused to your home by protecting it with quality impact products like WinGuard® windows and doors.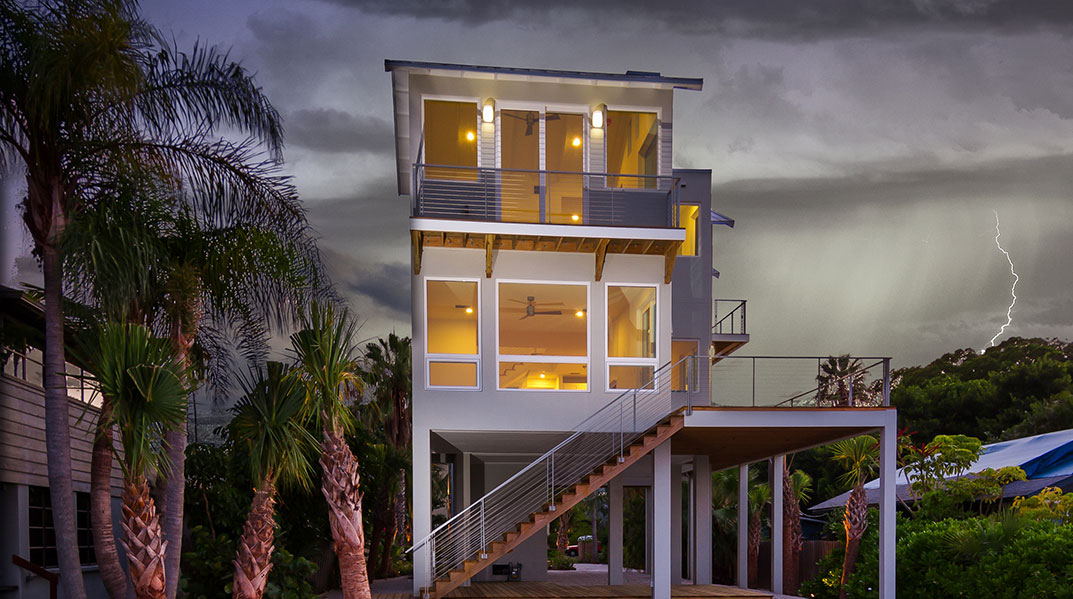 Before they are approved for sale in Florida, all fenestration products must be tested and certified by a third party. In the aftermath of Hurricane Andrew in 1992, PGT® proudly partnered with Florida building officials to develop the Miami-Dade codes, better known as Miami-Dade Notice of Acceptance (NOA), which are the most stringent in the country and designed to provide exceptional hurricane protection to communities. PGT® currently holds the most Miami-Dade certifications in the industry.
We've all seen the destruction that hurricanes can cause, but tropical storms can also be extremely dangerous and cause serious property damage. Reaching wind speeds up to 73 mph, tropical storms can bring flash floods, tornadoes, and other safety threats that PGT® impact windows and doors are designed to protect against.
Does Your Impact Window Pass the Missile Test?
How much can an impact resistant window take? PGT® hurricane windows and doors undergo large missile testing to help ensure your family and home are protected from hurricane-force winds and the damage they cause. Always look for impact resistant products that meet this tough large-missile standard.
Size: 2X4
Weight: 9 pounds
Speed: 50 ft./second
See the power of WinGuard®
Are you Miami-Dade Certified?
Requiring a missle test like the one seen in the video above and a cyclical test for pressure, these standards are some the world's toughest. PGT® holds the most Miami-Dade Notice of Acceptance (NOA) approvals in the industry.
Ensure that your impact windows and doors meet the Miami-Dade requirements. Always look for the symbol above, and ask to review certifications for product safety. A certified PGT® dealer can help you learn more.
Impact Windows vs. Shutters vs. Plywood
Many homeowners aren't sure which impact products they should choose to protect their property from storms and extreme weather — especially in the most hurricane-prone areas in Florida where building-code requirements have strengthened in recent years. See the comparison chart below to find out which is right for your home.
Learn how WinGuard® is different:
Impact Windows vs. Shutters and Panels
| | | | No Change in Home Appearance | | | | |
| --- | --- | --- | --- | --- | --- | --- | --- |
| PGT WinGuard® Impact-Resistant Windows & Doors | | | | | | | |
| Electric Roll-Down Shutters | | | | | | | |
| Manual Roll-Down Shutters | | | | | | | |
| | | | | | | | |
| | | | | | | | |
| | | | | | | | |
| | | | | | | | |
"The eye of Irma came right over Marco Island. One of our windows had a piece of concrete embedded in it, and it did not break. Had those winds gotten into my home, my home would have been destroyed. Your glass saved my home."
Shop PGT® Impact Resistant Products