Lifestyles have significantly changed over the past year as people spent unusually large amounts of time at home. In 2021, many families are likely to continue to spend a lot of time at home, but as we slowly return to normal, more people are likely to entertain with safety precautions in place.
Related: 2021 Home Decor Trends
With Memorial Day is right around the corner, many will be transitioning to their outdoor spaces to spend meaningful time with family, friends, and neighbors. If you want to spiffy up your backyard or poolside, we've got several ideas to help you transform your space. Even if you're not looking for a full overhaul, you can still include decorative touches to add that special bit of "oomph" to your outdoor areas.
Furnish Your Deck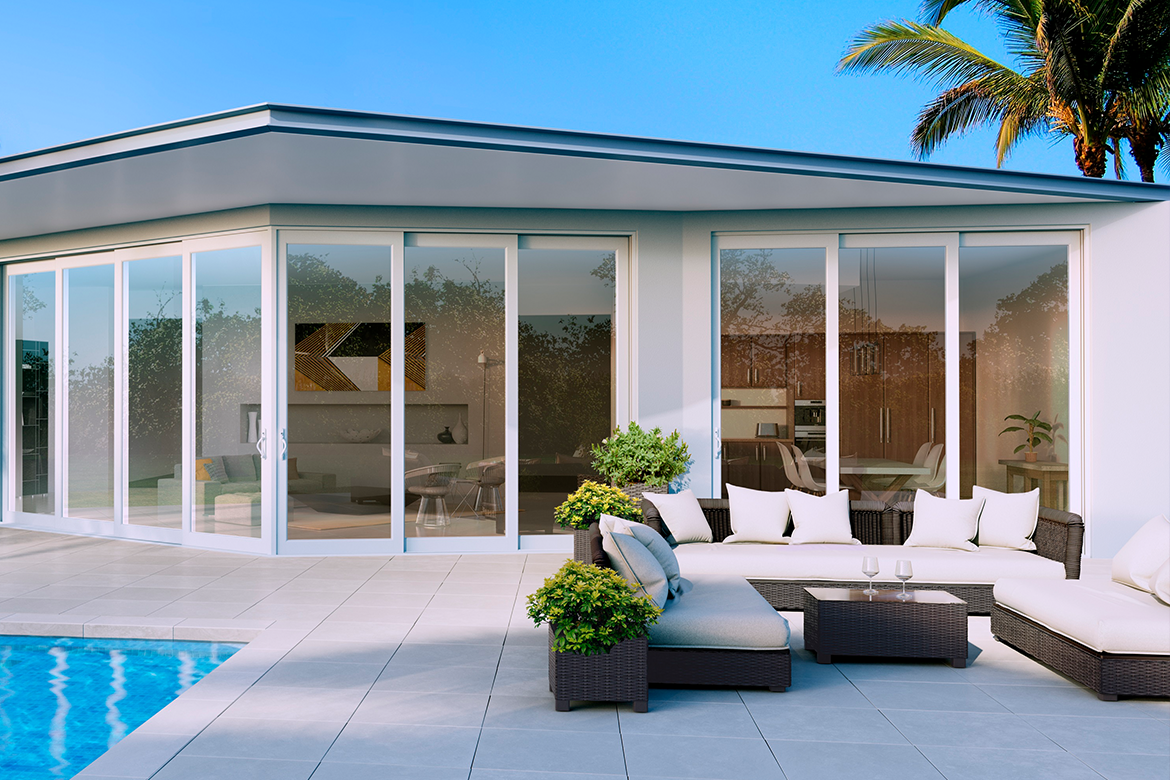 Featuring our WinGuard® Aluminum Premium Sliding Glass Door SGD780
This is a great year to get rid of the rusty or weather-worn outdoor patio set and start afresh. The furniture you purchase should be bought thoughtfully. For instance, if you're primarily planning to host family dinners, you'll need an appropriately-sized dining set. However, if you mostly are expecting to host intimate outdoor gatherings with appetizers and drinks, you'll want comfortable seating for your guests with enough table space to hold what you need.
Choose a New Décor
Approach your deck area with a similar mindset as you would any interior room. Better Homes and Gardens suggests starting with a cohesive color scheme and then positioning furniture that will comfortably fit and serve specific purposes.
Add color-coordinated cushions and pillows to your furniture and then lay out a good outdoor rug that matches your theme – a weatherproof rug will nicely tie your décor together. For an extra touch, hang twinkle lights that are rated for outdoor use. If you don't have outlets outside, there are numerous quality solar string lights on the market.
Related: Outdoor Lighting – Lighting Designer Tips & Tricks
Accessorize Outdoor Furniture
Featuring our WinGuard® Aluminum Premium Sliding Glass Door SGD780
Once you've decided on your décor, you can start to accessorize. To give your backyard or deck a finished look, position decorative accents throughout your outdoor space.
Place potted plants in strategic areas to enhance your look – hibiscus looks great in the summer.

Decorate with fresh flowers from your garden in vases (or buy some at the grocery store).

Set battery-powered candles in hurricane vases for evening gatherings – they mimic real candles, and you can set them to turn on at certain hours.
If you have limited floor space, try hanging plants instead. They'll add splashes of color throughout your outdoor space and are easy to care for.
Add Decorative Shade
Featuring our WinGuard® Vinyl Preferred Sliding Glass Door SGD5570
The heat of the summer months can be brutal. Integrating decorative shade to your backyard, patio, or deck, will serve both a decorative and practical purpose. You can shade your deck with an adjustable (and color-coordinated!) umbrella. Or, alternatively, place a large umbrella with some chairs at your poolside or in a cozy corner in your backyard. Both your family and guests will appreciate having a shaded place to cool off and relax.
Alternatively, if you've got the space, the sky's the limit. Add an outdoor tiki bar with a thatched roof to give your poolside a splash of island life. Build a gazebo to create additional shaded outdoor seating space. Include a classic pergola to add shade while still letting some sun. Add a lattice canopy with vines to help shield the sun's blazing rays. If you've got the budget, there are many high-end ways to upgrade your existing outdoor space or add entirely new shaded areas. Here are some additional creative and decorative shade-inspired ideas you can try.
Related: 4 Factors That Make Patio Doors More Energy-Efficient
Spruce Up Poolside Areas
If you're looking to spruce up your poolside, sometimes the smaller touches can make the biggest impact.
Add a pool towel cabinet to keep towels easily accessible without the clutter.

Position colorful summer-inspired chairs around the poolside.

Add palm tree party décor (some come with string lights – great for evening pool gatherings!)
If you have an organic shaped pool, it'll look great with rocks, vegetation, and garden beds filled with native plants. Want to achieve a "beachy" feel in your backyard? Try planting native vegetation on one side of your pool, pour sand on the other side, and position beach chairs to give it that coastal feel. Aside from looking stylish, you'll create an earth-friendly feel that simultaneously helps the local ecosystem.
Related: Xeriscaping Guide for Florida
Install a Fire Pit
A fire pit is a great inclusion that can be enjoyed on breezy summer evenings for ambiance (and s'mores!). You can either buy a prefabricated fire pit, or if you really want to be creative, you can go the DIY route. Imagine holding get-togethers with friends and family to roast hot dogs, making s'mores, or catching up with friends as you sip wine. The great thing about fire pits is they aren't just for summer; you can enjoy them throughout the winter too.
Most people are ready to get back to a sense of normalcy and the CDC has updated its guidance for small gatherings on how to do so in a safe manner. Unlike last year, in 2021 you can likely hold weekend barbecues and small pool parties. Now's a great time to get your home summer ready and create a peaceful oasis, a reimagined space that you can share with family, friends, and neighbors in the upcoming months.